SabahTravel.com is a B2B2C online digital travel booking platform for local Sabah service providers to list tours, accommodations, transportation services, community tourism, attractions and events tickets. To meet and connect the growing needs of overseas travel agents and worldwide FIT travelers, this platform is created as a sharing economy model leveraging on collaborative consumption, which allows all local tourism and hospitality service providers to sell their products online.
Furthermore, suppliers are equipped with an intelligent Business Management System, which enables them to have a more efficient allocation of your resources, lowering their operating costs, and increasing business revenue. Tourists/customers will then be able to book with multiple tour operators and service providers in a single booking, anytime and anywhere.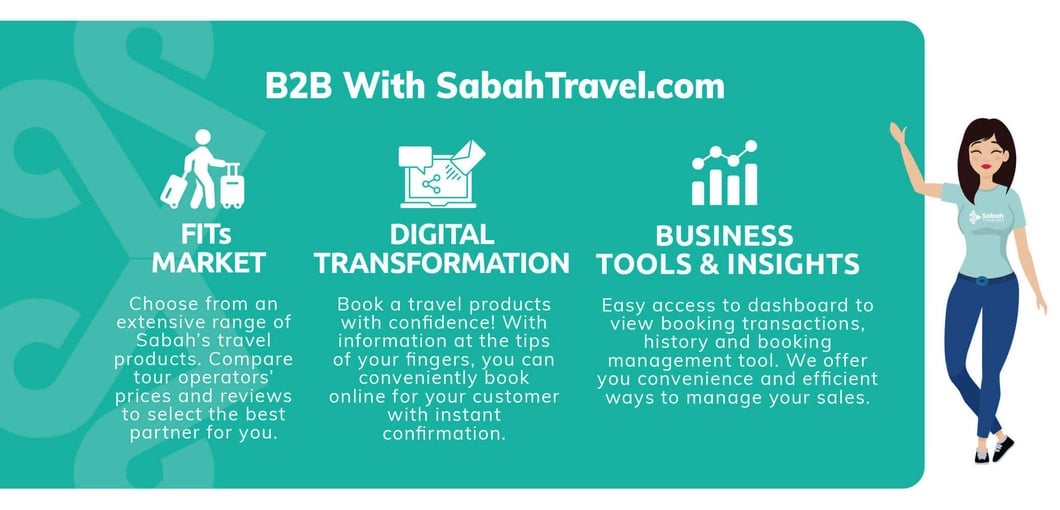 Why Partner with SabahTravel.com?
With SabahTravel.com, you can manage and expand your business anytime, anywhere!


✅ Zero Sign Up Fee
Signing up for a SabahTravel Partner account with us is completely free! Get started here in a few minutes.
✅ Wider Brand Exposure
SabahTravel allows your products and services to have increased global exposure which will in turn drive greater traffic to you! You can count on us to do the marketing while you focus on doing what you do best.
✅ Reasonable Platform Fee Base
We offer clear and reasonable platform fees with no hidden charges. We believe a strong partnership is one where it always present the win-win outcomes.
✅ Well-equipped system
You will have all features you need to effectively allocate resources, handle customers' bookings, receive payouts on schedule and monitor your business' progress. We are here to innovate as we develop, manage and expand your business together. Managing your business is in your hands.
✅ 24/7 Support
We are available to provide support when you need it. Drop us a message and we will be there.


Ready to Be Part of SabahTravel.com?
Sign up NOW start your global business or sign up to LEARN MORE how to be part of us!
Or free free to contact us at our Business Hours (8am-6pm, GMT+8):
Email: [email protected]
Hotline: (+60) 111 660 7009